What is a DLL File?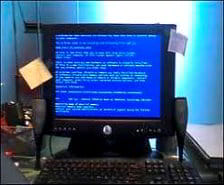 DLL stands for Dynamic-Link Library and DLL files are core part of Windows Operating Systems. DLLs provide a mechanism for shared code and data, allowing a developer of shared code/data to upgrade functionality without requiring applications to be re-linked or re-compiled. Any software depending on a particular dll will fail to start or give errors during operation if the dll is missing or corrupt.
As an expert computer technician, I have built dll4free.com to help people solve their DLL related computer problems.
Why are you
getting DLL error messages?
First you should understand how those errors occur. Below is a list of some most common cases.
An application was uninstalled and deleted a .dll file required by another software.
A software was installed and overwrote the .dll file with an old version or a version that is not compatible with other applications.
Unsuccessful installation of a software damaged some files which results in dll errors.
Either you or a malicious program (spyware, adware, virus) deleted the .dll file.
Missing or damaged dll files are likely to cause errors. Dll4free provides the right platform for you to search and download. First search our database for the required dll file and you can find all instructions to fix the error permanently.
Most Downloaded DLL Files of October 2016